Pharmacy 101: Prescription costs and coverage for individuals and families
Surprises are great—unless they're on your prescription bill. Read on to learn about the Formulary, saving at the pharmacy, and more.
Cost, coverage, and savings information for individuals and families
Steps to take before going to the pharmacy
Take these 3 steps before going to the pharmacy to understand your prescription coverage, costs, and ways to save.
Learn about the Formulary.
Keep reading this page to learn how to read the Formulary, then use it to find your medication and its tier.
Check your summary of benefits.
Find your detailed coverage information such as co-pays or co-insurance by medication tier.
Learn our important money-saving tips*.
We'll help you save time and money!
*Benefits vary by plan. Please consult your plan documents or contact Member Services about your plan benefits.
First things first. What is the Formulary?
Formulary is the formal name for the list of medications covered by your Bright HealthCare plan. It is sometimes called a "Drug List." Check out the FAQ section to learn how to navigate the formulary.
Formulary FAQ
There are 3 columns on the Formulary document as shown below:

1. Drug Name:
The name of the covered drug is located in the first column.
Generic drugs are identified in italicized, bold lower case letters. Typically, generic drugs work just as well and cost less than brand name drugs.
Brand names are indicated in UPPER CASE LETTERS.
2. Drug Tier:
The second column tells you what tier your drug is on. For more information about tiers, expand below.
3. Coverage Requirements and Limits
The third column tells you if there are any special requirements that need to be followed to receive a drug. For more information about requirements, expand below.
Visit the Bright HealthCare formulary here:
1. Use the index at the end of the document:
All drugs on the formulary are listed in alphabetical order and display the corresponding page number.
2. Look up by Medical Condition Categories:
Drugs are grouped into medical condition categories based on what they are used to treat. The categories are identified in black on the formulary. This example shows drugs used to treat asthma and can be found under Respiratory Therapy Agents.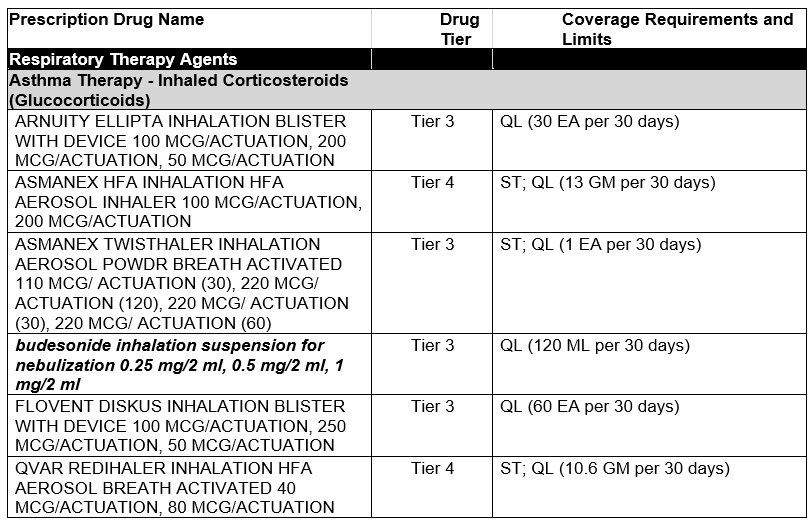 The Formulary is divided into tiers based on the type of drug. The out-of-pocket cost of the drug is determined by its tier.
The higher the tier, the higher the cost of the drug.
Tier 6 drugs are a special low cost class. These drugs will be $0 for many plans. Check your summary of benefits to see if your plan qualifies. For Tiers 1-5, the cost of the drug rises with the tier.
Tier 1 has the lowest out-of-pocket cost and Tier 5 has the highest.
Here is a breakdown of the type of drugs that fall on each tier:


**Drug Tier may vary based on plan.
Cost share information:
Some tiers may have a copay, which is a set cost you will pay for your drug.
Some tiers may have coinsurance, which is the percentage of the drug cost you will pay (after meeting your deductible).
To find your actual out-of-pocket costs by tier, refer to page 2 of your Summary of Benefits.
Prior Authorization (PA):
Certain drugs require a prior authorization. This means you will need to get approval from Bright HealthCare before you fill your prescription. If you do not get approval, the drug will not be covered.
Quantity Limits (QL):
For certain drugs, Bright HealthCare limits the amount of the drug that is covered. For example, Bright HealthCare may only cover 30 tablets for 30 days.
Step Therapy (ST):
Bright HealthCare may require you to try a certain drug before another drug will be covered. For example, if Drug A and Drug B both treat your medical condition, Bright HealthCare may not cover Drug B unless you try Drug A first. If Drug A does not work for you, Bright HealthCare will then cover Drug B.
Specialty Pharmacy (SP):
Bright HealthCare requires certain drugs to be filled at a designated specialty pharmacy. Specialty drugs are limited to a 30-day supply.